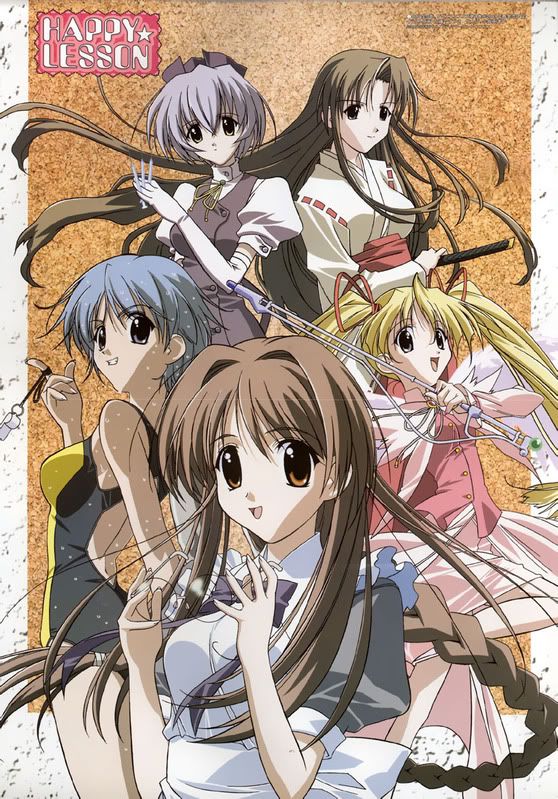 Happy Lesson
Type: TV
Episodes: 13
Status: Finished Airing
Aired: Apr 1, 2002 to Jun 30, 2002
Chitose shares his house with five ladies. One might think the continued attention of this many girls would be a good thing, but too much attention can prove to be painful. Did I mention they`re also instructors at his school (hence the title)? Not only is he the subject of their abuse at home, but at school as well. Even when things finally calm down at night, all the rooms are taken so Chitose must sleep on the couch.
Happy Lesson Advanced
Type: TV
Episodes: 13
Status: Finished Airing
Aired: Jul 3, 2003 to Sep 28, 2003
Hitotose Chitose is now living together with his 5 teachers as his mothers when a mysterious girl appears and becomes their neighbor which turns out that that person is Nagatsuki Kuron who wants Mu-chan to be her mother so another sibling rivalry ensues as to who would end up as Mu-chan's child.
Happy Lesson OAV
Type: OVA
Episodes: 5
Status: Finished Airing
Aired: Jul 19, 2001 to May 23, 2003
An 18-year-old orphan named Susumu Arisaka returns to the town where he was born and raised only to discover that his five teachers have moved in with him to become his mothers!
Share